Summer 2012 we went on holiday to Morton of Pitmilly, St. Andrews, Scotland. It was whilst walking along the beach at Kingsbarns that Joanne and I finally decided there was room in our lives for a dog. We took this picture, knowing we would return with a four legged friend to play in the sea. Now its February 2013 and we have booked our return Scottish holiday for the end of the summer. Jessie will love it.
Update.
. Its now January 2014, nearly a year to the day of getting Jessie, we added Max to our little pack.
One part of getting a dog, was the plan of walking whenever possible and so far we have done quite well. This page of our blog is to share where our walks have taken us....
Lyme Park
A National Trust home in Chesire. The pond in the formal gardens was used to film Colin Firth emerging wet as Mr Darcy in an adaption of "Pride and Prejudice"
The House sits in 1300 acres of grounds which gives lots of walking space. Dogs are allowed off leads except in some areas where deer roam.
We visited on a wet February day, and Jessie loved getting covered in mud, but she rinsed off in a stream near the tea rooms.
Tourist info
HERE
Dovestone Reservoir
Just 5 minutes from our home, and only 60p to park this is a cheap, easy and local walk. One lap around the reservoir is about 2.5 miles, plenty to tire Jessie out at the moment. Most of the path is firm going so not too muddy, but there is moorland and grass to the side of the path to race on. In ares there are loose sheep so caution has to be taken about when to let a hound of the lead.Probably our current favourite walk out.
Tourist info
HERE
Lytham St Annes
Only 10 minutes from Blackpool but worlds apart. Unlike its noisey neighbour, St Annes has retained its old world charm and is a quite, seaside town. The beach here was Jessie's first taste of being off her lead and free. A short walk from the beach are two grounded railway carriages that have been converted into a cafe. although dogs are not allowed inside they are welcome on the outside seating area.
Tourist info
HERE
Lake Windermere
We spent a pleasant but cold afternoon wandering around the shoreline and in the town. We even found a clothing shop that welcomed dogs... Wise move on their part.. We ended up buying a new coat for Joanne.
At the end of the Lake is a great National Trust area called Fell Foot Park, which is only small but has picnic benches on the lake shore and nice walks, certainly worth the drive from the main attraction area
Tourist Info
HERE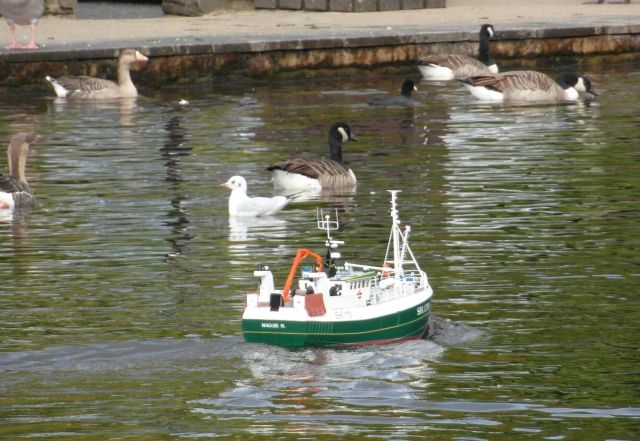 Etherow Country Park
My Dad and I both build and sail model boats at Etherow Model Boat Club, the picture is a trawler I have built. The country park has great walks and a tasty cafe that always has walkers and dogs sat outside!
Jessie enjoys a good walk here, especially up in the wooded areas.
Tourist Info
HERE
Quarry Bank Mill
Another National Trust Property in Cheshire, a stones throw away from Manchester Airport. Lots of walks and things to look at but if we had to choose Lyme Park (see above) was more fun for Jessie
Tourist Info
HERE
Uppermill / Huddersfield Canal
This is nearly home for us, our youngest daughter attends High School in Uppermill, so Jessie gets to come and drop off some mornings.
With more time Uppermill has village shops and a beautiful section of the Huddersfield canal to walk and discover. There is also a small park with stepping stones across the river and large playing fields for off lead sprints !
When you are hungry a stroll along the canal to the Limekiln cafe rewards you with great food and dogs are welcome inside too!
Canal info
HERE
LimeKiln cafe info
HERE
Binn Green Greenfield
Just above Dovestone reservoir (see above) there is a quieter car park off the A635, that offers access to the land above and stunning views looking down.
We met a couple of others walking dogs but it is "off the beaten path" hence more off lead time
Tourist info
HERE
Hadrian's Wall
Its a long wall, (84 miles) but you can just walk along several sections of it Lots of things for Jessie to sniff, including the remains of a Roman fort or two !
We stayed in a great dog friendly cottage, called
Wyndon Farm
in the village of Haltwhistle.
After a day of exploring you cant get a much warmer welcome than the
Blackbull Pub
, You will be well fed and welcomed if you have 2 feet or 4 paws.
Keswick
In the heart of the lake district, has a reputation for being dog friendly. We had a great day walking around the outdoor markets, a wander around a craft fair in a large hotel and spotted lots of dog bowls outside the shops.
Its only a stroll from the town center down to the lake.
Tourist information
HERE
Kingsbarns, Beach St Andrews, Scotland
This is the beach that played a part in inspiring us to get Jessie. Having now been back with her it is still amazing. Long open beach with clean sand and very quiet.. This picture was taken on a Bank Holiday weekend
See our blog entry for more info
HERE
Chew Reservoir
Using Dovestone Reservoir car park as a starting point, you can head up the hills towards the higher Chew Reservoir. Ideal on a busy Saturday when the main areas at lower levels are busy.
More information
HERE
Sandymouth Bay (Near Bude) Cornwall
We have fallen in love with Sandymouth and the dog friendly complex of Cottages at Houndapitt.
You cant beat a long weekend break, getting up and walking along the beach.
We have blogged about both
HERE
Of course we have more mundane walks too, Ruth our youngest takes Jessie and Max out for 10 minutes every morning before school. One of us takes them out for a an evening stroll too. They even get to come to town shopping on Saturdays, as part of the family she goes wherever we can take her.
As we are committed to keep up the walking,
We have recently joined the National Trust. Membership will give us free parking at all the sites.
When you are out and about, Dog friendly Britain is handy site to find pubs,
restaurants and places to stay, with you four legged friend